Sean Fujiyoshi (born August 3, 1991) is the other half of the original pair of the unofficial Higa and Fujiyoshi duo. After a prolonged absence, it was revealed that Sean was moving onto other things such as university, and no longer had time left to do the videos. It was unconfirmed if Sean would return or make a comeback, and he was sorely missed by the NigaHiga community. Sean returned to the RHPC in March of 2013 in the video "The Ryan Higa Show - Sean ." As of 2015 for some time, Sean has been officially back on the crew with Ryan and the others. Comments made by longtime viewers express their jubilation when it comes to Ryan collaborating with Sean after his absence. He plays a large part in most videos to this day.
Sean currently lives in Vegas.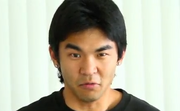 Ad blocker interference detected!
Wikia is a free-to-use site that makes money from advertising. We have a modified experience for viewers using ad blockers

Wikia is not accessible if you've made further modifications. Remove the custom ad blocker rule(s) and the page will load as expected.