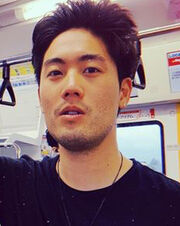 Ryan Higa is a famous YouTuber, Born June 6, 1990 in Hawaii.
Ryan Higa is No. 1 in best Youtubers. In the Skitzo videos he is the kind reliable 'boss' to Regina, Hanate, and R-Dizzle currently played by Ryan himself. He is the right half of the Higayoshi (Higa and Fujiyoshi) Duo - which is creative ,funny ,awesome ,and calm.
Ryan Higa at the very beginning wanted to make videos. He had the Left Half of the Higayoshi (Higa and Fujiyoshi) Duo - which is powerful, mature and analytic, and he had Sean Fujiyoshi to help him. But his videos were not serious and any of that, they were funny. You see kids, that is why Ryan is so popular. His first video was a 'How to Be Ninja' video, which you know is messed up. He decided the ending was 'TEEHEE!' His 2nd video was a Stalking Preview video, which was stalked by a gnome. Then he decided to make some more 'How to Be' videos like 'How to be Gangster' or like 'How to be Emo'. But his 5th video, 'How to be Nerd,' was unfortunately removed from YouTube due to copyright infringement; although you can still find it reuploaded by fellow fans under the same heading. ====
2007-2009:
Edit
After some videos, Sean Fujiyoshi left to go to Hawaii to work. Then Ryan had to work on his own. But still that didn't stop him making videos! He then made some commercials like: ====
The Big Bouncing Inflatable Green Ball
Carl Jr.'s New Portabello Mushroom Burger
The Snuggo
The iPod Human
He continued working on videos.
Edit
2010-2012:
Edit
Ryan Higa changed drastically. He had black hair again and he went back into making new Off The Pill Videos. His viewers have had a very positive response.
Ryan Higa then found new gang members: Will, Greg, and Derek to replace Sean but apparently Sean returned. So he carried on. Ryan Higa made a new channel called HigaTV as a sequel to NigaHiga. There is still more to come.
2014-2015:
Edit
Ryan continued with his theme (and love) of lamps and with the same group of people. During this span of time, his videos became more intelligent, the thought process complicated and difficult to follow for many, likely a positive consequence of his ADHD.
His videos are filled with puns.
He ends almost all of his videos with a "TEEHEE".