Bryan Le simply known as RiceGum, is a YouTuber that rose to fame in late 2015 with his "These Kids Must Be Stopped" video. He was one of the first YouTubers who contributed to the Roast Yourself Challenge that Ryan created. In his Roast Yourself Challenge video, he mentioned that Ryan was one of his favorite YouTubers. His first appearance in a nigahiga video was Ryan's video about his Diamond Play Button. He also appeared in an I Dare You video with Nigahiga.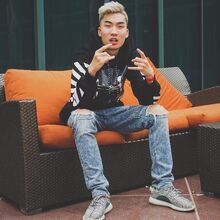 Ad blocker interference detected!
Wikia is a free-to-use site that makes money from advertising. We have a modified experience for viewers using ad blockers

Wikia is not accessible if you've made further modifications. Remove the custom ad blocker rule(s) and the page will load as expected.