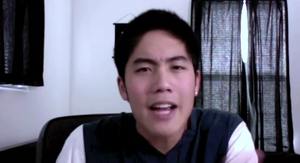 The most recent viral video, Friday by Rebecca Black with Alexandra Wallace cameo!?
Ryan talks about Rebecca Black's new single, Friday. At the start of the video, Ryan finds many similarities between himself and Rebecca Black, that is, they cannot sing so they autotune themselves, their lyrics comprise of what they do on a daily basis and they get millions of views. Ryan then goes on to say that Rebecca Black isn't a failure and that no one can beat her. Ryan then speaks about how the lyrics aren't so terrible, just very honest. Ryan then strays off and says how he feels that the line "We we we so excited" might be a cheap shot on Asians. A clip ensues that shows a racist girl in a library talking to Ryan, who has subtitles even though he is speaking fine. To conclude, Ryan says he feels the video was good and he then proceeds to show a shortened version of it.
Ad blocker interference detected!
Wikia is a free-to-use site that makes money from advertising. We have a modified experience for viewers using ad blockers

Wikia is not accessible if you've made further modifications. Remove the custom ad blocker rule(s) and the page will load as expected.