HigaTV
is
Ryan Higa
's new channel, which he announced on May 23, 2011 on
The Announcement
 on his main channel, nigahiga. He made this channel so he can make videos that don't have to be funny. So instead of the 
TeeHee
, they have HigaTV.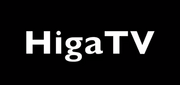 Australia Trip
Freedumb!
Nice Guys (BEHIND THE SCENES)
Tag Your Green!
Canada Trip
4 Guys 1 Car
Marley and Me
Sole Mate (freestyle)
YTF in Hawaii
Sh*t People From Hawaii Say (Deleted Scene)
Chronicle Bloopers
YTF Cinnamon Challenge!
Bromance (Behind The Scenes)
Internet Icon (Contest)
What is YOMYOMF?
She's a Beach (Freestyle)
Make a Wish!
Ryan Higa Asian Tour
The Green Ball Fails
Silent Library Challenge!
OPERATION: SCARE KEVJUMBA
Marley: Guess What!?
Real Life NBA 2K13
Rewind Youtube Style (Behind The Scenes)
Higa on the Riki Late Show!
Best Thank You Song Ever
CLICK TO WATCH: Twilight Breaking Dawn!
Eyeball Surgery!
The Kendama Toy (Behind The Scenes & Bloopers)
Expectations vs Reality:Romance (Bloopers and Behind the Scenes)
MAPOTI
Famous Lazy People(Behind the Scenes)
Sean is Back!
I Hate People Who Judge
Making of "Next Viral Youtube Trend"
Psy -GENTLEMAN (Reaction Video)ft.Nigahiga
Stunt Fail
Immature
Creating the Google Glass Human
How To Sing Like Your Favorite Artist (BTS)
Candy Crush The Movie (BTS)
Internet Icon With JennaMarbles,Smosh,and Pewdiepie!
Potato Toss Fail!
Marley The Corgi!
Basketball Trick Shot (BTS)
Ryan Higa - Reflection(Mulan Cover)
HOW TO GET GIRLS (BTS)
Multiple Personalites!? #DearRyan
Naruto Shoot Begins! (Japan Trip part 1/3)
The Perfect Storm! (Japan Trippart 2/3)
Abandoned School (Japan Trip part 3/3)
Honest Commercials (BTS)
Handshake Song Tutorial
Real Life Minecraft Fails (BTS)
Ad blocker interference detected!
Wikia is a free-to-use site that makes money from advertising. We have a modified experience for viewers using ad blockers

Wikia is not accessible if you've made further modifications. Remove the custom ad blocker rule(s) and the page will load as expected.