If you are looking for the trailer, click here.
"Agents of Secret Stuff" is a movie created by Ryan Higa and posted to Nigahiga
On November 24, 2010, a new independent 35 minute film Ryan created with Wong Fu Productions called "Agents of Secret Stuff" was uploaded on Ryan's channel. Besides Ryan Higa, the film also featured other prominent Youtubers. These included Anthony Padilla and Ian Hecox of Smosh, Kassem G, Arden Cho, Philip Wang from Wong Fu and Dominic Sandoval (aka D-Trix).
Agents of Secret Stuff tells the story of a seventeen-year-old Agent of Secret Stuff (A.S.S.) named Aden (Ryan Higa), who is sent to work undercover at a local high school to protect a high school senior Taylor (Arden Cho) from the rival, evil, secret agency called the Society Involving Not-So-Good Stuff (S.I.N.S).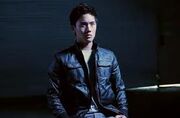 Aden, being trained at a young age to a secret agent from the beginning of his life, has little experience being a 'normal' teenage boy. This results in comic and sometimes sad interactions and situations in which Aden is not sure how to react inside the high school world.
| | | |
| --- | --- | --- |
| Full Movie | Bloopers | Behind the Scenes |
| "Agents of Secret Stuff"-0 | Bloopers "Agents of Secret Stuff" | "Agents of Secret Stuff" - Behind the Scenes |